Description
Avery T-1500
Avery T-1500
Engineering Grade Reflective.
• 7 year durability.
• High quality, durable, enclosed lens retro-reflective material.
• Offers exceptional value for permanent traffic signage applications.
• Meets applicable requirements for engineering grade sheeting applications for Type I retroreflective sheeting as set forth in ASTM D 4956.
• Flat surfaces only.
• Do not wet apply.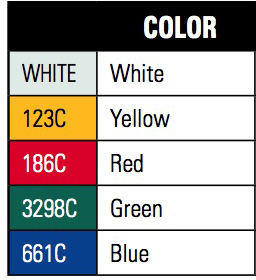 http://www.gamart.com.au/Portals/0/avery/data_sheets/reflective/T_1500_reflective/Avery_T1500_Reflective.pdf
Features
Meets requirement for Type I retroreflective sheeting as per ASTM D 4956
Excellent sheet stability and layflatness for precise register and printing
Excellent printability, conversion and application characteristics
High gloss for superior appearance
Excellent dimensional stability during use
Excellent outdoor durability
Brilliant Class 2 reflectivity
Excellent adhesion to Aluminium
Available in 7 colours – White, Yellow, Orange, Blue, Green, Red, Brown
Description
Film: 127 micron high gloss
retro reflective
Reflectivity: Class II
Engineer Grade
CPL Value: 70 CPL typical*
Adhesive: Permanent acrylic
Backing: Two side
polyethylene coated StaFlat
paper
Outdoor life: Up to 7 years
(3 years for Orange)
Colours: 7 standard
Conversion
Flat bed cutters Cold overlaminating
Friction fed cutters Estat printing
Die cutting Water based inkjet
Thermal transfer Solvent inkjet
Screen printing UV Cured inkjet
Common Applications
•
•
•
•
•
Traffic signage
Architectural signage
Directional signage
Promotional signage
Flat sided fleet
Uses
Avery T-1500 Reflective is a high quality, durable, enclosed lens retroreflective
material design specifically for permanent Traffic signage on flat surfaces.
Application
• Not recommended for direct application to unpainted stainless steel
• Wet application method is not recommended
• Application to flat surfaces only
Reflectivity*
Observation Angle
Entrance
Angle
White Yellow Orange Green Red Blue Brown
0.2° -4° 70 50 25 9 14 4 1
30° 30 22 7 3.5 6 1.7 0.3
0.5° -4° 30 25 13 4.5 7.5 2 0.3
30° 15 13 4 22 3 0.8 0.2
*Minimum Coefficient of Retro reflection (RA) (cd / lx / m2
)
Other Tests
Meets all other requirements as per ASTM D 4956 including Shrinkage, Flexibility, Liner removal,
Impact resistance, Specular gloss & Outdoor weathering
General
Calliper, face film ISO 534
Calliper, face film & adhesive ISO 534 127 micron (+/- 13 mic)
Dimensional stability ***
Tensile strength DIN 53455 ***
Elongation DIN 53455 ***
Gloss ISO 2813, 20º ***
Adhesion, initial Meets Class 1
Adhesion, ultimate Meets class 1
Flammability Self extinguishing
Shelf life Stored at 22° C/50-55 % RH 1 year
Durability ** Vertical exposure Up to 7 years (unprinted)
(3 years for Orange)
Thermal
Application temperature Minimum: + 4oC
Temperature range – 40oC to + 82oC
Important
Information on physical characteristics is
based upon tests we believe to be reliable.
The values listed herein are typical values
and are not for use in specifications.
They are intended only as a source of
information and are given without
guarantee and do not constitute a
warranty. Purchasers should independently
determine, prior to use, the suitability of
any material for their specific use.
All technical data is subject to change
without prior notice.
Warranty
Avery®
materials are manufactured under
careful quality control and are warranted to
be free from defect in material and
workmanship. Any material shown to our
satisfaction to be defective at the time of
sale will be replaced without charge. Our
aggregate liability to the purchaser shall in
no circumstances exceed the cost of the
defective materials supplied. No salesman,
representative or agent is authorised to
give guarantee, warranty, or make any
representation contrary to the foregoing.
All Avery®
materials are sold subject to the
above conditions, being part of our
standard conditions of sale, a copy of
which is available on request.
**Durability
Durability is based on exposure conditions
in the Asia Pacific region. Actual
performance life will depend on substrate
preparation, exposure conditions and
maintenance of the marking. For instance,
in the case of signs facing north in the
southern hemisphere or south in the
northern hemisphere; in areas of long high
temperature exposure such as northern
Australia; in industrially polluted areas or
high altitudes, exterior performance will
be decreased.